Member, WWF US Board of Directors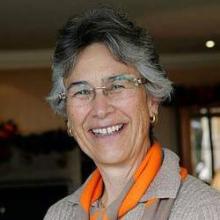 Yolanda Kakabadse is a member of WWF US's Board of Directors, former President of WWF International, and former Ecuadorian Minister of Environment.
Her work with the environmental conservation movement officially began in 1979, when she was appointed Executive Director of Fundación Natura in Quito, where she worked until 1990. During this time she helped Fundación Natura become one of Latin America's most important environmental organizations and, in 1993, she created Fundacion Futuro Latinoamericano, an organization dedicated to promote the sustainable development of Latin America through conflict prevention and management. She was its Executive President until 2006 and remains as Chair of the Advisory Board.
From 1990 until 1992, Kakabadse coordinated the participation of civil society organizations for the United Nations Conference for Environment and Development (Earth Summit) in Geneva. From 1996 to 2004 she was President of the World Conservation Union (IUCN), and Member of the Board of the World Resources Institute (WRI) during the same period. In August 1998 Yolanda was appointed Minister of Environment for the Republic of Ecuador, position she held until January 2000. During 2001 she was a visiting professor at Yale's School of Forestry and Environment, USA.
She is the Chair of the Independent Science and Technology Panel of Renova Foundation, Brazil. She co-chaired the Environmental Sustainability Task Force of the UN Millennium Project, 2002 – 2005. She chaired the Scientific and Technology Advisory Panel of the Global Environment Facility (STAP / GEF) from 2005 to 2008.
Kakabadse served as WWF's International President from January 2010 to December 2017.
She was born in Ecuador and studied Educational Psychology in the Catholic University of Quito.
"The way we produce and consume food has an enormous environmental impact that is felt around the world. It is critical that we halve food waste along value and supply chains while at the same time working to increase food security — and the SDG target will help achieve this. WWF is working to help reach the SDG target by supporting governments, corporations, civil society, institutions and local communities partner together to achieve farming practices that improve land and soil quality, and maintain ecosystems so that increased agricultural productivity does not come at the expense of the environment. I am becoming a champion for SDG target 12.3 because it will help us tackle malnutrition, support sustainability, improve global health and contribute to secure food to all while stopping food waste and loss. This is the type of target the environment needs and society demands." — Yolanda Kakabadse