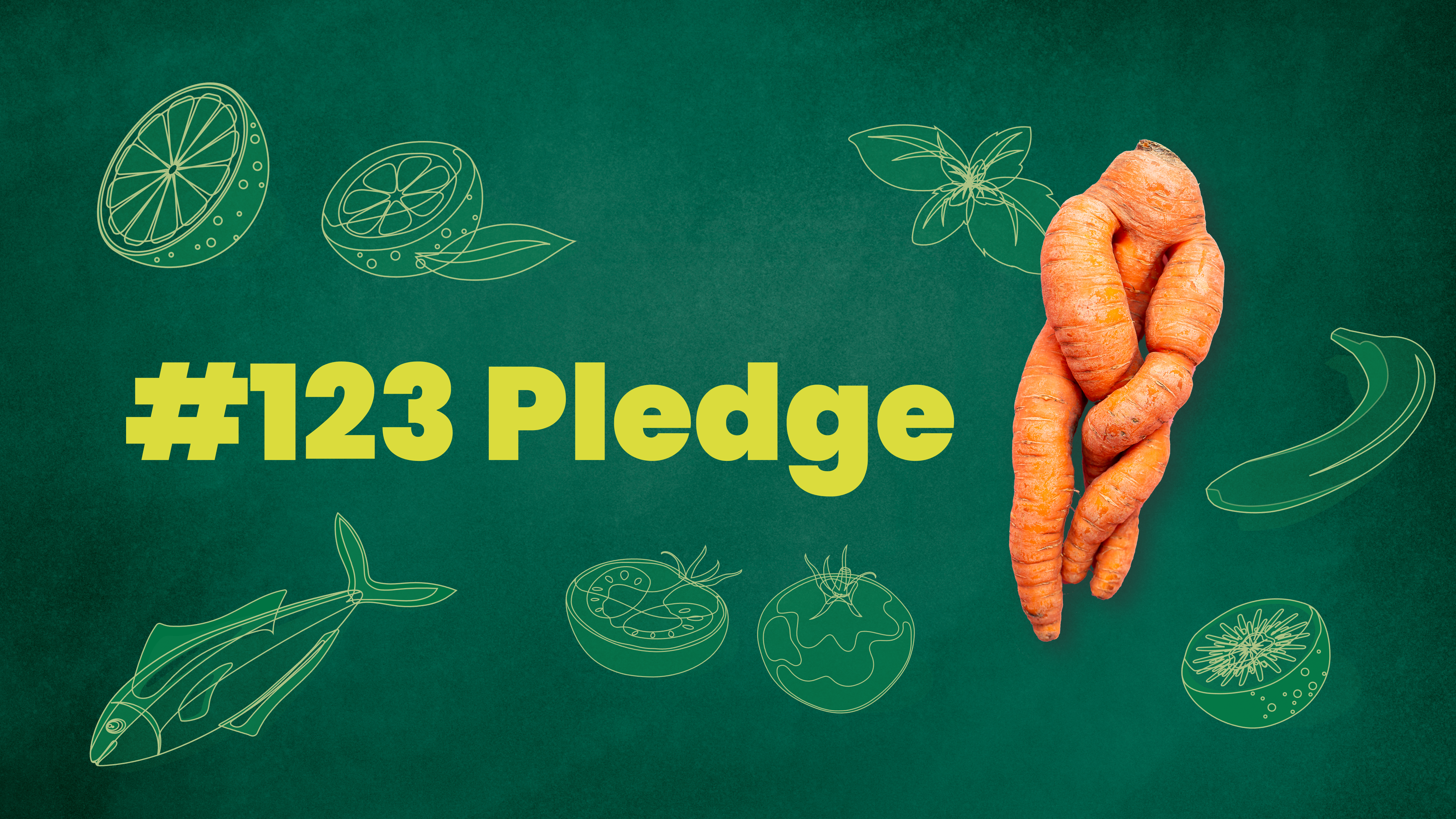 The '123 Pledge' is a call to action for governments, companies, institutions and single entrepreneurs (like chefs) to prioritize fighting food loss and waste within their climate action agenda.
Organizations taking the '123 Pledge' must meet a number of requirements designed to ensure impact, progress and transparency toward a worldwide goal of halving food loss and waste by 2030, in line with the UN Sustainable Development Goal 12.3. Commitments must include a climate angle and be timebound and measurable. Commitments must also tie to at least one of five priority areas:
Integrating food loss and waste reduction into country and company climate strategies;

Reducing food loss and waste along supply chains; 

Stimulating action at the national and subnational (city) level; 

Measuring, reporting and creating policy and regulatory frameworks for food loss and waste reduction; and

Supporting behavior change at the consumer level through awareness, education and enabling conditions.
'123 Pledge' members are required to provide annual progress reports to the Food Is Never Waste Coalition or to the Champions 12.3. Annual progress reports will contribute to the Global Stocktake (GST), which will conclude at COP28 in 2023. 
The 123 Pledge is coordinated by Champions 12.3, UN Environment Programme (UNEP), and Food and Agriculture Organization of the United Nations (FAO). It is also supported by WRAP, WWF, and Rabobank.
 
Learn More:
Submit Your Commitment to the '123 Pledge'
 
The Government of The Netherlands has committed to make an active effort to make the Farm-to-Fork Strategy more ambitious at EU level. Now the Farm-to Fork Strategy aims to reduce food waste at consumption and retail level. The Netherlands will make an effort, within the EU to achieve the goal of reducing food loss and waste in the entire food chain, under the Farm to Fork Strategy, which is at the heart of the European Green Deal.
Unilever has committed to

continue to focus on halving food waste in its direct operations by 2025.  Its Hellmann's brand will inspire and enable 100 million consumers every year till 2025 to be more resourceful with their food at home and waste less. They are expanding the geographical scope of their consumer-facing program covering North America, Latin America and Europe with country focus on US, CA, Brazil, Argentina, Chile, UK, Spain, Greece.

Rabobank has committed to

execute a new series of Food Waste Challenges in 2023 to help 75 foodservice clients in The Netherlands with an average of 35% food waste reduction. It's part of Rabobank's – a food and agriculture bank operating in this sector for 125 years – belief that reducing food loss and waste is one of the top three levers to reduce carbon emissions and is important work toward a dream of a net positive food system.

World Resources Institute has committed to work through Champions 12.3 with farmer-facing companies to engage 200,000 smallholder farmers to start to tackle on-farm and near-farm food losses by the end of 2024, with a longer term goal of those farmers halving farm and near-farm losses by 2030.
WWF has committed to

leveraging its global network of offices to influence governments and industries to immediately meet the call to action.

WRAP

has pledged to deliver food loss and waste projects aligned with the Pledge impact areas in countries with a combined population of over one billion by the year 2030.

Too Good to Go

has committed to 1) encouraging and supporting governments in 10 countries to shape and improve food waste policy measures through its public affairs engagement; rescuing 1 billion Magic Bags of surplus food from going to waste through its mobile app; and 3) raising food waste awareness with 250 million consumers through its awareness campaigns focused on date labelling, school food waste and more.

Costa Rican FLW Network commits to

improve its efforts in food loss and waste awareness, research and networking, resulting in at least three successful intervention cases by 2025, as expressed as a percentage of food loss and waste reduction – and its equivalent emissions – to be shared and scaled.

LeanPath

has committed to working with its client partners to prevent an amount of food waste equivalent to 50 million meals by 2025.

Steven M. Finn has committed to

developing graduate level course and webinar/blog content to raise awareness and directly educate hundreds of citizens by the end of 2025 on the scope and scale of the food waste challenge, the critical linkage between food waste and the SDGs, and solutions and change initiatives to accelerate food waste reduction in line with Target 12.3.