CEO, Rabobank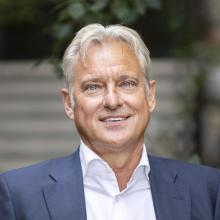 With over 30 years of international banking experience, at both an operational and a managerial level, Stefaan Decraene is a seasoned professional to lead Rabobank. His result-oriented approach is one of continuous improvement with the customer at the center of attention. His choice to lead Rabobank was strongly influenced by its cooperative heritage, societal roots, and strong international position in the food value chain. 
Rabobank: A Cooperative Bank with a Mission
Decraene: "I strongly believe that Rabobank as a cooperative bank can truly enable people. What matters to our members, our customers and our communities, matters to us. With our services, we can support them to be resilient and future-proof. And we need to, because society faces some serious challenges. Being a bank for farmers, all the way back to its beginning 125 years ago, tackling major societal challenges with our stakeholders in 'Food & Agri' is at our core. And one of the biggest challenges of today is to feed more people than ever before, but in a different way. With customers across the global food value chain – from farm to fork – we are in the right place to help facilitate this needed change in the food system. One that respects planetary boundaries and producer livelihoods. 
That is why we are helping our customers to future-proof their businesses so there will be enough nutritious, affordable food long into the future, produced in balance with the planet. This for instance is about productive & regenerative agriculture, protecting & restoring nature, diversifying protein supply, reducing food loss & waste (FLW) and keeping a keen eye on strengthening rural livelihoods. That is what our mission 'growing a better world together' is also about.
Food Loss & Waste @ Rabobank
The case for investing in food loss & waste reduction is compelling, because it saves money, reduces carbon emissions, lowers environmental footprint and improves food availability and nutrition. Reducing food loss and waste would lead to significant benefits. That is why we will help customers reduce their FLW, according to SDG 12.3, to reach a 50% reduction by 2030.
Career
2023 - Present - Chair Managing Board Rabobank – direct responsibilities Audit, Legal, Sustainability, Strategy, Communication & Corporate affairs and the Corporate Secretary & Cooperative
2011 - 2022 - Member Group Executive Committee, Head International Retail Banking – BNP Paribas France
2008 - 2011 - Member Management Board, Retail & Commercial Banking (Belgium, Turkey, Slovakia and Luxemburg
2006 - 2011 - Chair Dexia Belgium
2002 - 2003 - Member Management Board Dexia Belgium, Sales & Marketing Dexia Bank Nederland
2001 - 2002 - Chair Management Board, Bank Artesia Nederland
2001 - 2001 - Head Wholesale Banking, Dexia Bank Belgium
2000 - 2001 - Chair Artesia Securities - Artesia Banking Corporation
1998 - 2000 - Manager Investment Banking & Securities – Artesia Banking Corporation
1988 - 1998 - Bacob Bank (Bacob Bank and Bank Paribas Belgium became Artesia in 1998)
Additional Positions
Member Supervisory Board Ardo, Belgium
Education
1986 - Master in Applied Economics, University of Leuven, Belgium
1984 - Bachelor of Political, Social and Economic Sciences, University of Brussels, Belgium