Chairman of the Board and Founder, Stop Wasting Food movement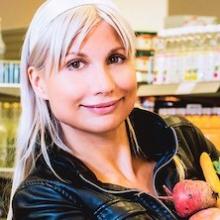 Selina Juul is one of the world's leading experts on food waste and Chairman of the Board and Founder of Stop Wasting Food movement in Denmark (Stop Spild Af Mad), which she founded in 2008. Selina Juul is one of the global Champions 12.3, Member of the European Commission's EU Platform on Food Losses and Food Waste, Partner of the Food and Agriculture Organization of the United Nations (FAO)'s SAVE FOOD initiative, Partner of the European Commission's EU FUSIONS project on food losses and food waste, Partner of the FAO/UNEP Think.Eat.Save campaign, Member of Prime Minister of Denmark's Climate Partnerships for the Food and Agriculture Sector the Trade Sector. Selina Juul is also a Board Member of the Danish Government's Think Tank on Prevention of Food Loss and Food Waste ONE\THIRD - Selina Juul is an originator of a concept of a think tank on the prevention of food waste.
Selina Juul has contributed to over 40 national and international books and publications against food waste and has published an award winning food waste cookbook "Food With Respect" ("Mad med respekt") co-authored with Her Royal Highness Princess Marie of Denmark at Denmark's biggest publishing agency Gyldendal. The book is an international number 1 in the world winner in category "Family" at Gourmand World Cookbook Awards 2020. Selina Juul has also contributed with a chapter to the Vatican's book on food waste, "Reduction of Food Loss and Waste". Selina Juul did over 300 talks on food waste on national and international conferences - from TED to the Vatican. She also wrote 230+ opinion editorials and articles on food waste in Danish and international media, as well as 7 opinion editorials co-authored with Danish Ministers, MP's and MEP's. Selina Juul has 117,000+ followers on combined social media and appeared in national and international media and TV over 9,000 times - from The New York Times to BBC and CNN. A BBC TV documentary about Selina Juul's work went viral on Facebook and for over 30 million views. 
For her ongoing work against food waste, Selina Juul received Danish and international awards and acknowledgments, among them are Reader's Digest European of the Year 2020, European Young Leader 2018, Dane of the Year 2014, Nordic Council Nature and Environment Prize 2013, Svend Auken Prize 2013, JCI Denmark's The Outstanding Young Person Award 2011 and Cross of Merit Pro Utilitate Hominum, Sovereign Order of St. John of Jerusalem Knights Hospitaller.

Webite:
https://www.stopwastingfoodmovement.org

Facebook:
https://www.facebook.com/selinajuul
https://www.facebook.com/Madspild
#selinajuul
Linkedin:
https://dk.linkedin.com/in/selinajuul
https://dk.linkedin.com/company/stopspildafmad
#selinajuul
Twitter:
https://twitter.com/selinajuul
https://twitter.com/madspild
#selinajuul
Instagram:
https://instagram.com/selinajuul
#selinajuul
Blogspot:
http://selinajuul.blogspot.com