Former Secretary of the Environment and Natural Resources (Semarnat), Mexico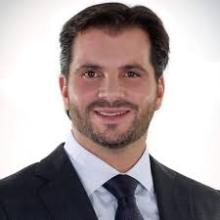 Rafael Pacchiano is the former Secretary of the Environment and Natural Resources (Semarnat) for the country of Mexico, having been appointed to this role in August 2015. Previously, he was Semarnat Deputy Secretary for Environmental Enforcement since December 2012. His key achievements included the deployment an online version of the Annual Certificate of Operations (COA) to facilitate the recording of pollutant releases and transfers, programs to improve air quality management (ProAire), a Clean Transportation program to reduce the environment impact of freight transport, strengthened protection of species protected under CITES, and the launch of a Comprehensive Vaquita Recovery Strategy, in addition to important initiatives to ensure the sustainability of Mexico's coasts.
Pacchiano served as youth program coordinator on President Enrique Peña Nieto's transition team. Previously, he was federal deputy in Mexico's 61st Congress, representing the Ecologist Green Party of Mexico (Partido Verde Ecologista de México) from September 2009 to August 2012. In this capacity, he sat on a number of committees, including the Environment and Natural Resources Committee. He is a former vice president of Globe International, Mexico Chapter, worked on creating the General Climate Change Act, and represented his party at the Asia-Pacific Parliamentary Forum and at the second meeting of the Mexico-Brazil Interparliamentary Forum (2010).
His professional activity has also featured private-sector work, at companies such as Pfizer, Booz Allen Hamilton, and BMW.
He has a degree in industrial and systems engineering from Instituto Tecnológico y de Estudios Superiores de Monterrey. He also holds a diploma in management from the same university, and another in climate change from Instituto Tecnológico Autónomo de México.
"If food waste were a country, it would be the third-largest polluter in the world, releasing 3.3 gigatonnes of CO2e to the environment. Mexico joins this initiative to raise awareness on this link between food waste and climate change. When more than 800 million people face food insecurity, while over a third of the food produced is wasted, something has to be done. A change in our behavior as consumers is essential." — Rafael Pacchiano