President and CEO, World Business Council for Sustainable Development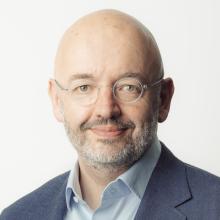 Peter Bakker is President and CEO of the World Business Council for Sustainable Development (WBCSD), as well an Advisory Committee Member for the United Nations Food Systems Summit (UN FSS) 2021.
Mr Bakker has led WBCSD since 2012. WBCSD is a global, CEO-led organization of over 200 leading businesses working together to accelerate the transition to a sustainable world. WBCSD member companies come from all business sectors and all major economies, representing a combined revenue of more than USD $8.5 trillion and with 19 million employees.
Mr Bakker is a distinguished business leader who, until June 2011, served as CFO and then CEO of TNT NV, the global transport and logistics company. He has been recipient of the Clinton Global Citizen Award (2009) and the Sustainability Leadership Award (2010). Mr Bakker serves as a member of several corporate sustainability advisory boards.
He received the royal order Officer of the Order of Orange-Nassau in 2018 in recognition of his long-lasting commitment to engaging business in tackling global sustainability issues.
 
"Today, over 30 percent of global food production is lost or goes to waste. From a humanitarian point of view this is unacceptable as the number of undernourished people in the world approaches 800 million. From a business and economic point of view this is an enormous opportunity to improve the effectiveness of our global food supply chains. By 2030, WBCSD's Climate Smart Agriculture working group including the world's leading agri-business companies, plans to increase global food security by making 50 percent more food available while reducing agricultural emissions and minimizing food loss from field to shelf. I call on all companies to join this effort and make food waste and hunger history." — Peter Bakker
World Business Council for Sustainable Development's Work to Reduce Food Loss and Waste
As one of the seven organizations on the steering committee of the FLW protocol, WBCSD has embedded food loss and waste (FLW) reduction in a range of its work programs while actively promoting the FLW Standard amongst its 200+ member companies. 
WBCSD has curated an inventory of credible tools and resources from thought leaders and NGO partners to support companies trying to mitigate food loss and waste in their operations. In addition, WBCSD has published a portfolio of case studies highlighting strong examples of FLW interventions from its member companies, representing the entire agriculture and food supply chain. 
Under WBCSD's Food & Nature Program, FLW is addressed through two streams: 1) WBCSD's FReSH (Food Reform for Sustainability and Health) project on healthy and sustainable diets works in alignment with the Food and Agriculture Roadmap on consumer behavior change and tackling food waste  and 2) the Global Agribusiness Alliance facilitates collective action and learning on post-harvest loss in smallholder agricultural value chains.  
WBCSD also ensures that FLW is minimized in its own internal activities. Since 2015, minimizing food waste has been an explicit goal at WBCSD's Liaison Delegate and Council Meetings. Hundreds of leading business representatives heard the message directly from Peter Bakker and were presented meals throughout the meetings, designed together with WBCSD's caterers, to avoid wasting food.