Secretary General, International Seed Federation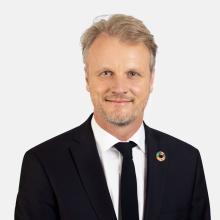 Michael Keller is Secretary General of the International Seed Federation, focusing on its vision of a world where quality seed is accessible to all farmers to support sustainable agriculture and food security. In line with ISF's mission, Michael is engaged in creating through collaboration an enabling environment for the private seed sector.
In 2022 he was elected Chair of the International Agri Food Network which serves as a focal point for the Private Sector Mechanism of the UN Committee on Food Security.
Through long-standing involvement at national and international levels, he has extensive knowledge and understanding of cooperation within the private sector and with non-governmental and civil society organizations.
His expertise spans a wide range of topics including seed, agriculture, food security, Sustainable Development Goals, law, policy and advocacy. 
Prior to joining ISF, Michael worked in the French Senate as a Parliamentary Advisor, as Head of European and International Affairs of the Mayor's Association of France and in different positions at DuPont de Nemours and Pioneer Seed.  
Michael studied law in Germany (Law State examination) and holds a post-graduate in law from the Paris-Sorbonne University. He spent time in Switzerland, Tunisia and France for training in international law and political science.
Quote:
"We are all aware of the incredible food loss throughout the food value chain, which is already under pressure with climate change and political strife. Today it is time for a greater collaborative effort and partnership between the public and private sectors. Research and development (R&D) and efficient trade are key drivers of success, supporting the development of and access to crops with better resistance to environmental stresses, longer shelf life, and higher nutritional value for the consumer. The private sector is engaged with the agricultural value chain, and the first step to any progress is empowering farmers."
International Seed Federation
ISF is an international member-based organisation formed in 1924, whose members include national seed trade associations, seed companies and technical providers related to seed from all over the world, and is the voice of the global seed sector and represents the interest of over 7500 members in international organisations and towards value chain stakeholders, governmental and non-governmental actors. ISF's vision is "a world where quality seed is accessible to all to support sustainable agriculture and food security", and to achieve this, ISF's mission is "to create the best environment for the global movement of seed and promote plant breeding and innovation in seed". The private sector is constantly engaged (https://worldseed.org/seed-sector-declaration/) and cooperates with farmers to support agricultural productivity, climate change adaptation and mitigation.
International Agri Food Network
The International Agri-Food Network (IAFN) was formed in 1996 during the World Food Summit as an informal coalition of international trade associations involved in the agri-food sector at the global level. The network facilitates liaison among the member organizations and engages international organizations in the agri-food chain at a global level. The International Agri-Food Network brings together eighteen international organizations, which include thousands of international companies, and hundreds of national associations which represent tens of thousands of small and medium sized enterprises (SMEs), thousands of co-operatives, and millions of farmers. The associations, which comprise the Network, have members in 135 of the 193 countries in the UN.