Co-Chair, Global Alliance for Climate Smart Agriculture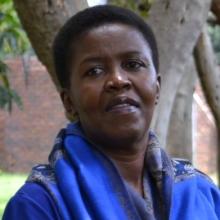 Lindiwe Majele Sibanda has over 25 years of trans-disciplinary experience in rural development, public sector reforms and private sector management. She is a trained animal scientist, an authoritative leader in agriculture and climate change and nutrition, and a trained professional dialogue facilitator for multi-cultural groups.
She currently serves as Co-Chair of Global Alliance for Climate Smart Agriculture. She was previously the Vice President for Country Support, Policy, and Delivery with the Alliance for a Green Revolution in Africa, and she held the position of Chief Executive Officer and Head of Mission of Food, Agriculture and Natural Resources Policy Analysis Network (FANRPAN), coordinating policy research and advocacy programmes aimed at making Africa a food and nutrition secure region.
She has served as trustee and adviser to numerous international food security-related initiatives and institutions.  Currently, she is a serving member of the United Nations (UN) Committee for Policy Development (CDP), a subsidiary body of the Economic and Social Council Committee (ECOSOC). She is a member of the African Union Commission (AUC) Leadership Council representing African civil society organisations. Since 2008, she has been involved with the Farming First global campaign, advocating for a holistic approach to sustainable agricultural development. She has served as a university professor in agriculture, animal sciences and veterinary sciences and she is a regular guest lecturer at several universities. She has served on several boards which include among others, the International Maize and Wheat Improvement Centre (CIMMYT), as Board Chair for the International Livestock Research Institute (ILRI); and co-Chair of the The African Growth and Development Policy (AGRODEP).
She is a recipient of numerous awards for her contribution towards agriculture and food security in Africa. They include, the Science Diplomacy Award by the Government of South Africa (2015); the Forum for Agricultural Research in Africa- FARA Award for Exemplary leadership and contributions to agricultural development agenda in Africa (2014); member of the Aspen Institute New Voices Fellowship (2014); Yara 2013 Prize Laureate; recognition as one of seven women working to change the food system in honour of International Women's Day by the Food Think Tank (2013); and the Global Development Advisory Panel (2012).
She is currently leading at FANRPAN, a multi-country research and technical assistance project on Agriculture to Nutrition (ATONU): Improving Nutrition Outcomes through Optimized Agricultural Investments, addressing the question "What can agriculture do for nutrition". She holds a BSc Degree for the University of Alexandria in Egypt, MSc and PhD from the University of Reading, UK.
"Poverty, hunger, and malnutrition are amplified by policies that are not implementable. Working with FANRPAN, I commit to ensure increased understanding, uptake, and implementation of evidence-based policy that is impactful, coherent, inclusive, reduces waste and enhances resilience to climate change, promotes nutrition-sensitive agriculture, and improves prosperity, food and nutrition safety." — Lindiwe Majele Sibanda