Former President, Rockefeller Foundation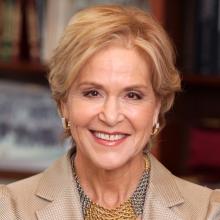 Judith Rodin is the former president of the Rockefeller Foundation, having served in this position since 2005. The Foundation is a long-time and pioneering investor in global food security efforts, and most recently launched YieldWise, a $130 million initiative to cut food loss and waste in half.
At the Foundation, Dr. Rodin recalibrated its focus to meet the challenges of the 21st century. Today the Foundation supports and shapes innovations to expand inclusive economies and build greater resilience by helping people, communities and institutions prepare for, withstand and emerge stronger from acute shocks and chronic stresses.
Dr. Rodin serves on several corporate and non-profit boards including the Alliance for a Green Revolution in Africa. She is the author of more than 250 academic articles and has written or co-written 15 books, including her two most recent, The Power of Impact Investing and The Resilience Dividend: Being Strong in a World Where Things Go Wrong.
She is a graduate of the University of Pennsylvania and earned her Ph.D. in psychology from Columbia University.
"Food loss and waste happens all along the global pathway to the plate—from how smallholder farmers harvest and get crops to market, to corporate losses across supply chains, all the way to consumer waste. To succeed in cutting food waste in half, we must take a systemic approach. Through YieldWise, our seven-year, $130 million initiative, we will build a more resilient food system by demonstrating how the entire supply chain can collaborate to achieve the goals set by Champions 12.3. Together, we will ensure that humanity has enough food to thrive, all while respecting the limits of our planet's ability to provide." — Judith Rodin