Former Minister of Finance, Mexico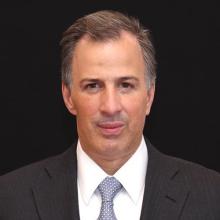 José Antonio Meade was born in Mexico. He received a degree in Economics from the Instituto Tecnológico Autónomo de México; a Law degree from the Universidad Nacional Autónoma de México, and a PhD in Economics from Yale University.
As a professor, he has taught Microeconomics and Macroeconomics courses at ITAM and Yale University, as well as courses in Economic Analysis of the Law at ITAM's Masters Program in Public Policy.
He has received recognition for his research on Economic Analysis of the Law, an Honors Degree in Economics and the National Tlacaelel Award.
He has served as:
General Director of Financial Planning at the National Commission for the Retirement Savings' System
Deputy Secretary of Bank Savings Protection at Mexico's Institute for the Protection of Bank Savings
General Director of Banking and Savings at Mexico's Ministry of Finance and Public Credit
Chief Executive Officer of the National Bank for Rural Credit, currently in liquidation
Chief Executive Officer of Financiera Rural
Chief of Staff of Ministry of Finance and Public Credit
Undersecretary of Finance (Tax) of Ministry of Finance and Public Credit
Undersecretary of Finance and Public Credit
Secretary of Energy
Secretary of Finance and Public Credit
Minister of Foreign Affairs
Secretary of Social Development
Minister of Finance