Honorary Chairman, Royal DSM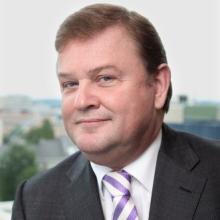 Feike Sijbesma (Dutch, 1959) studied medical (molecular) biology at the University of Utrecht and business administration at Erasmus University in Rotterdam.
In 1987, he joined the Industrial Pharmaceuticals division of Gist-brocades, where he was responsible for strategic planning and business development. From 1990 to 1993, he was appointed the division's Marketing and Sales Director. Thereafter (1993) he was given leadership of Savoury Ingredients, later on a business unit of Gist-brocades' Food Specialties Division. In 1995, he was made director of that division and joined the Gist-brocades' Executive Committee. Following the acquisition by DSM in 1998 he became Director of the business group DSM Food Specialties.
In 2000, Feike joined DSM's Managing Board of Directors. In 2002/2003 he led the acquisition of Roche Vitamins and Fine Chemicals and in the years thereafter (2003-2007) he managed this company's integration into DSM from Basel (Switzerland), in addition to his other responsibilities on the Managing Board.
In 2007 he became CEO and Chairman of the Managing Board of Royal DSM. Under his leadership the company transformed itself from a chemical company into a life sciences and materials sciences. He became Honorary Chairman in February 2020.
"DSM sees minimizing food loss and waste as a part of its circular economy approach, where we focus on reducing resource use and unlocking value from waste streams. As such we innovate along the value chains with products like Pack-Age® for the cheese industry. Pack-Age® prevents mold formation and since no dry strong rind is formed, the whole cheese can be used for further processing such as slicing and grating If all the Gouda and Parmesan cheese producers were to use Pack-Age® in the production process, we could prevent the waste of around 200,000 tons of cheese per year." — Feike Sijbesma