Former President, World Farmers' Organization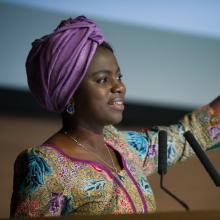 Dr. Nguleka, a veterinary doctor by profession, obtained her education from the University of Zambia. She also held an International Diploma in Poultry Husbandry from the IPC Barneveld of The Netherlands and Diploma in Project Management from National Institute of Public Administration (NIPA). She practiced and offered services in poultry disease diagnosis, treatment, and control.
She was also a small-scale farmer and reared layers of poultry and goats, and other farming activities.
She served as the first Vice-President and Director of Commodities on the Zambia National Farmers' Union (ZNFU) Board. She formerly served as President of the Zambia National Farmers' Union (ZNFU) and President of the World Farmers' Organisation (WFO).
"As farmers, we are worldwide. We are doing our best to produce enough food. Help us feed the world by reducing wastage." — Evelyn Nguleka