Former Chief Executive Officer, Sodexo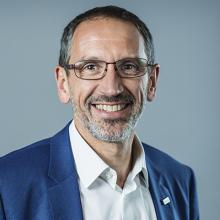 Denis Machuel became Chief Executive Officer of Sodexo January 23, 2018. He was Deputy CEO from September 2017 to January 2018.
Throughout his career, Denis has had an international focus and has sought out entrepreneurial opportunities working in large multinational firms.
Denis joined Sodexo in 2007, as CEO of Benefits & Rewards Services for Central & Eastern Europe. In 2010, he moved to lead Sodexo's Benefits & Rewards Services in Europe and Asia, and in January 2012, he became CEO of Sodexo Benefits & Rewards worldwide. During Denis' tenure as CEO of Benefits & Rewards, issue volume and revenues increased significantly and activities expanded geographically in 6 new countries.
For Sodexo, food should never be thrown away. Nearly all the site managers, chefs and kitchen staff have implemented initiatives to cut waste. But this is not enough. Sodexo is using data to identify actions that can change behavior and reduce food waste. It's an opportunity to inspire creativity from the chefs, create new ways of enjoying food, and adopt more efficient operations for the planet.
"We need to accelerate the fight against food waste for the sake of humanity and in light of hunger worldwide. We must track how much food is discarded at each and every one of our food service sites – and we are committed to make these figures public to bring a sense of urgency and motivate us to always do better. Beyond data, the program is a revolutionary approach to food services. Our chefs, supply experts, site managers and frontline teams are trained and encouraged to think creatively and innovate in the way we plan, use and serve food to reduce avoidable waste."
Working across the board
Whether it's during the ordering, storage, preparation, or serving process, we are working together with our teams, clients and suppliers to reduce food and collateral waste at across Sodexo sites.
In United Kingdom, as part of our commitment to prevent unnecessary food waste, Sodexo has launched Wasteful to Tasteful to help reduce the volume of grade B* fruit and vegetables being thrown away or left to rot.
With over 30% of crops never leaving the farm Sodexo has joined forces with Waste Knot, an organisation committed to connecting businesses with surplus food and Ferryfast, a co-operative of farmers in Worcestershire, to introduce boxes of rescued fruit and vegetables, delivered in recycled banana boxes to Sodexo's catering teams across the country.
WasteWatch
For Sodexo, the fight against food waste is part of our daily routine. The WasteWatch powered by Leanpath Program prevents on average 50% of food wasted. Using the program, Sodexo teams can rapidly and easily capture food waste data, giving clear insights into what is being wasted in their kitchens and why. With this new understanding, teams can implement targeted operational and behavioral changes to help end avoidable food waste, whether food waste generated in the kitchen or consumer food waste. In June 2019, Sodexo announced the deployment of its data-driven food waste prevention program, WasteWatch powered by Leanpath, at 3,000 sites worldwide within a year.
Training and development
We are training our teams to be sustainably minded and have developed training and personal development programs to empower employees, customers and clients to waste less by celebrating the benefits of conserving food, water, energy, paper and raw material. In 2018, more than 3,500 Sodexo sites in 47 countries took part in the WasteLESS Week annual campaign, an effort to promote the importance of reducing the waste of resources and simple actions all can take. The five-day campaign engages Sodexo teams, clients and consumers to
participate in waste prevention actions such as reducing water, food, energy and paper waste and encouraging recycling. Education and training activities such as WasteLESS Week are helping to ensure that integrated waste management will be a core part of each site's overall management practices.
Surplus food distribution
For the past 20 years, Sodexo has been supporting the fight against hunger and malnutrition through Stop Hunger. While Sodexo teams make every effort to eliminate food waste at the restaurants, with the support of stop Hunger, we offer the daily surplus to local associations or NGOs for redistribution to those in need.
In France, Stop Hunger and Sodexo chose the French Federation of Food Banks and Restos du Coeur to support the redistribution. In 2018, 95 tons of food surplus have been offered.