President, World Farmers' Organisation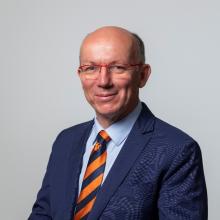 President of the World Farmers' Organisation (WFO) since June 2022, Arnold Puech d'Alissac is a dedicated family farmer from the Normandy region in northern France, running a farm that produces free-range poultry, beef cattle, and various crops in Pissy-Pôville.
Arnold Puech d'Alissac has always dedicated his life to advocating for farmers at the national, regional, and global levels. His strong commitment and sense of responsibility towards the farming community began during his role as President of the European Council of Young Farmers (CEJA) from 1999 to 2001.
Bureau member of the Fédération National des Syndicats d'Exploitant Agricoles (FNSEA), he represented the European Constituency on the WFO Board of Directors from 2017 to 2022, holding the positions of Treasurer and Vice President of the Organisation.