CEO, Fight Food Waste Limited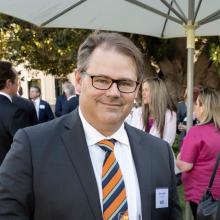 Dr Steven Lapidge is the creator and CEO of Fight Food Waste Ltd, which incorporates the Fight Food Waste Cooperative Research Centre and Stop Food Waste Australia.  From its commencement in 2018 the organisation has grown to one of the world's largest public private partnerships solely dedicated to fighting food waste and involves near one hundred industry, government and university partners.  The organization is the lead agency in Australia's fight to halve food waste by 2030, in line with the United Nations Sustainable Development Goal 12.3. 
Steve's qualifications include a PhD and MBA.  He is a Fulbright Professional Business/Industry Fellow, a Fellow of the Governors Leadership Foundation Program and a graduate of the Australian Institute of Company Directors.  His career so far has focused on industry-based science and commercialization across the wildlife, agrifood and sustainability fields.  He is Professional Member and former Non-Executive Director of the Australian Institute of Food Science and Technology and a current Non-Executive Director of WRAP Asia-Pacific.