Co-CEO, CFO and Member of the Managing Board, DSM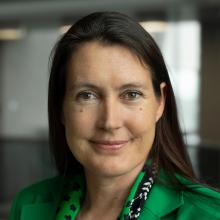 Geraldine joined DSM as CFO and Member of the Managing Board in 2014. She became Co-CEO on 15 February 2020, retaining her CFO responsibilities.
Before joining DSM, Geraldine worked with the SGS Group where she held various positions including Senior Vice  President Group Financial Controller, before being appointed Global Chief Financial Officer in March 2010. In this role, she was voted CFO of the year in Switzerland for large companies. Before joining SGS she worked for Deloitte in Switzerland and for KPMG in the UK, obtaining her Chartered Accountant qualification while working in London.
Geraldine holds a bachelor's degree in Physical & Human Geography from Reading University (UK) and a master's degree in Sustainable Development from Cambridge University. She is passionate about sustainability and is an advocate for sustainable finance.
Geraldine is Co-Chair of the HRH the Prince of Wales' Accounting for Sustainability (A4S) CFO Leadership Network. This network brings together leading CFOs to help embed the management of environmental and social issues into business processes and strategy, particularly through the finance function. She is signatory to the A4S CFO statement of support for the Taskforce for Climate-related Financial Disclosures recommendations. Geraldine is also Board Member of FCLTGlobal, a not-for-profit organization that works to encourage a longer-term focus in business and investment decision-making. The organization accomplishes this by developing practical tools and approaches to support long-term behaviors across the investment value chain.
In addition, Geraldine advocates both internally and externally on diversity and inclusion. She is Board member of Catalyst Europe, a non-profit organization that promotes inclusive workplaces for women.
Geraldine is also a Non-Executive Director of ABB.