CEO, Unilever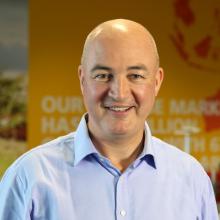 Alan was appointed Chief Executive Officer in January 2019. As CEO of Unilever, Alan is responsible for leading one of the world's largest and most geographically diverse consumer goods businesses, with operations in 190 countries. Every day, Unilever serves the needs of more than two and a half billion consumers around the world.
Alan joined Unilever in the UK in 1985, subsequently working in North America for 14 years and in Asia for 13 years.
Before being appointed as Chief Executive Officer, Alan served as President of Unilever's Personal Care business from 2014 and continued as President when the name of the division changed in 2018 to Beauty and Personal Care.
From 2009 Alan led Unilever's business in China and North Asia, doubling its size and laying important foundations for future success. He was appointed to Unilever's Leadership Executive in 2011 in his role as President of Unilever's businesses across North Asia. His previous senior roles have also included President Russia, Africa & Middle East; global category leader for several of Unilever's Foods businesses; and President of Unilever's Home & Personal Care business in North America. Earlier, Alan worked in a number of sales and marketing roles in the UK, Thailand, and the US.
Alan holds a Bachelor of Commerce with honours from Edinburgh University, Scotland. He also graduated from Harvard Business School's General Management Program in 2001.
Alan is married and has three adult children.
Career History
2019: Appointed Chief Executive Officer of Unilever N.V. and Unilever PLC
2018: Personal Care becomes Beauty & Personal Care Division
2014: President of Unilever's Personal Care business
2013: President of Unilever Russia, Africa & Middle East
2011: President of Unilever's businesses across North Asia and member of the Unilever Leadership Executive
2009: Chairman of Unilever in Greater China
2000: Global Category Leader for several of Unilever's Foods & Refreshment divisions, and President of Unilever's Home & Personal Care business in North America
1999: VP of Marketing, Unilever's Helene Curtis business
1995: VP, Personal Care for Unilever Thailand with additional responsibility for Hair Care in Asia Pacific
1985: Joined Unilever